Nestled in rural Nebraska, you'll find the tight-knit community of Friend. Here, multiple stories and connections to donation and transplantation have inspired the community to give back.
This spring, the act of giving back meant collecting items for children on the transplant waiting list right here in Nebraska.
The Exeter-Milligan-Friend Future Farmers of America student organization tackled this project head-on, raising money for toys and gift cards. This year, that included raising more than $2,500 in gift cards for families of those children awaiting transplant at Nebraska Medicine.
"By working on this project our members get the opportunity to give to something bigger than themselves while honoring those in our community that have donated tissues and organs to others," said FFA Adviser Amy Kohtz. "The members look forward to this project every year and have seen the impact that they have on families who are currently struggling with serious medical issues with their own loved ones. This project is a wonderful opportunity for our members and community to support those in need."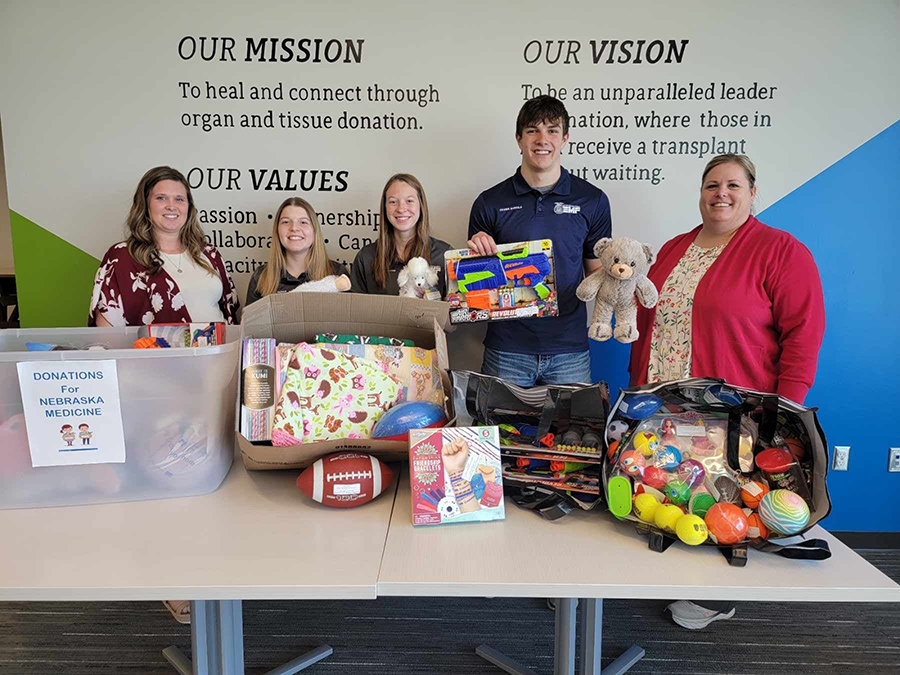 Erika Arp is just one of the people in Friend connected to donation and transplantation and helped organize the fundraiser this year and in years past.
Erika and her family tragically lost their son, Beckett, in 2015. He was a donor hero. Since then, the Arps have made it a point to give back to the community in his memory. This includes the fundraiser for children on the waiting list for transplant.
"We knew we wanted to honor Beckett after he passed and continue his legacy with his giving spirit," Erika said. "After attending Live On Nebraska events and hearing the stories of families awaiting transplants and the amount of time they spent in the hospital, we knew we were called to help support those families.