A "perfect little girl."
That's how Beaufield Berry-Fisher describes her newborn daughter Georgia Pearl.
Beau says Georgia completed the Fisher family when she joined big brothers Shine and Oscar, and Dad Rob, on December 16.
During pregnancy, a friend told Beau about Live On Nebraska and that she might be able to donate her placenta after delivery.
"That's all she really had to say," recalled Beau. "I was like 'I'm done. I'm in.'"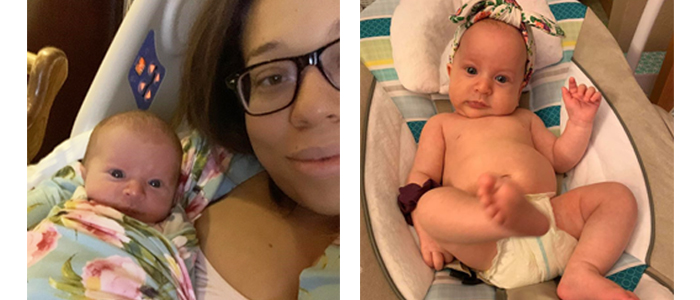 Live On Nebraska is one of the first organ procurement organizations (OPO) in the country to offer birth tissue donation.
Birth tissues include the placenta, umbilical cord and amniotic fluid. They provide oxygen and nourishment to the baby during pregnancy, and in most cases, are discarded after delivery. But their benefits don't have to end once a baby is born.
Dr. Jodi Hedrick, a self-proclaimed "goddess of deliveries," was one of the first OBGYNs in Omaha to embrace birth tissue donation and begin talking with her patients about it.
"It's not a hard conversation to have," said Hedrick. "This is an instance where you can help someone else through your donation. How wonderful is that?"
Birth tissue grafts are primarily used for wound healing. Patients with traumatic burns and ulcers, as well as those undergoing skin cancer treatments benefit from the grafts. Treatment with birth tissue grafts can greatly reduce healing time, and in some cases, spare the patient from amputation.
A patient of Dr. Hedrick's was one of those success stories. Birth tissue was used to heal an incision that would not close after ankle surgery.
"She was so grateful for that," said Dr. Hedrick. "It took a wound that wasn't healing well and turned it around."
The Donation Process
Expecting moms age 18 and older who will deliver via a planned C-section can be considered for birth tissue donation.
Beau said the ability to help others in this way made her feel special, especially since some women experience negativity associated with C-section deliveries.
"Just being able to donate exclusive to the type of birth I was having was really amazing."
The process, she said, was "super simple."
A day or two prior to delivery, the soon-to-be mom completes a phone screening with a Live On Nebraska coordinator.
From there, it's delivery as usual.
After the baby is born, the birth tissues are provided by the mother's physician to Live On Nebraska. The tissues are then packaged and delivered to a partner organization that evaluates them for safety and prepares the grafts for recipients in need.
Up to 15 patients can benefit from just one birth tissue donation.
And for Beau, that's what it's all about.
"We're healthy," she said, "and being a part of somebody else's healing process is just a beautiful way to give back."