Don't quit.
Jeramie Schoepf burned this mantra into the memories of his daughters, nieces and nephews and the athletes he coached, reminding them that "don't quit" starts with "do" and ends with "it."
"Do it and do it well," he would say. "But don't quit."
As the junior varsity and assistant head wrestling coach at Seward High School, Jeramie inspired scores of athletes to work hard and do their best.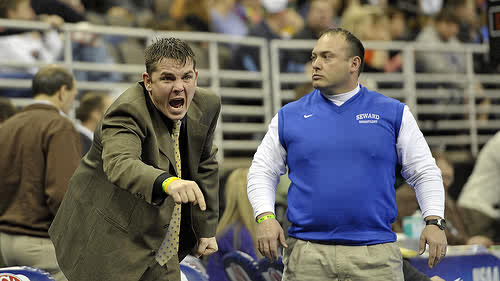 Officially speaking, he coached wrestling in Seward for 11 years, but his coaching career actually started somewhere around junior high.
Jeramie was one of three Schoepf boys and two girls who grew up with wrestling at the heart of their family life. Jeramie's parents Bruce and Karel formed the city's first wrestling kids club; Bruce was a coach. The family living room was the Schoepf boys' in-home wrestling arena.
"We never had real nice furniture," Karel said. "We learned to move the furniture to the side of the walls and just go ahead and let them wrestle."
When they weren't wrestling at home, the boys were helping Bruce coach. Even in his early years, Jeramie gained a sense of satisfaction from helping kids achieve their goals.
"I think his coaching style was very much like my Dad's," said sister, Jessica. "They just wanted the kids to have fun and they wanted them to try. As long as they tried, that's what the important thing was."
Jeramie wrestled throughout high school, never once being pinned in folkstyle wrestling. He made it to the state tournament all four years and was runner-up his senior year.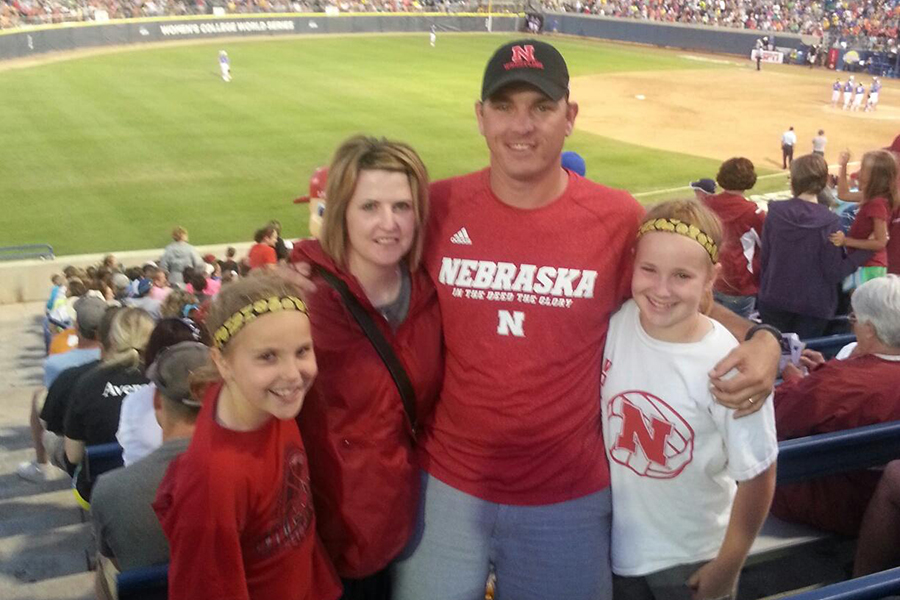 He met his wife Kim a few years after high school. A cross-country and track athlete, the two bonded over their shared love of competition. They later welcomed daughters Mikah and Emma who also share their parents' competitive spirit.
Like their dad, Mikah and Emma joined Jeramie for practices and competitions. Emma recalls losing her first tooth in the wrestling room. Mikah celebrated her birthday every year at the District meet.
"I was just happy he was doing what he loved to do and that he got to spend most of his time around wrestling," said Mikah. "He loved being there for kids no matter what."
His brothers, also wrestling coaches, credit Jeramie's personality to his success as a coach.
"He would have fun with wrestling," said younger brother Josh. "He knew how to have fun because he was just a fun guy to be around. All the other high school coaches loved him no matter what sport it was. That was just Jeramie."
Jeramie's older brother Jeff said Jeramie was committed to helping kids from any town, at any level, become better wrestlers.
"He just wanted to see Nebraska become a top high school wrestling state. He just thrived on it."
In an individual sport like wrestling, instilling confidence in athletes is paramount. Jeramie excelled at this.
"The thing with Jeramie was he didn't care how good or bad you were," said Seward head wrestling coach Bob Core. "He was always going to believe in you and work with you to reach your goals on or off the mat."
Throughout his career, Jeramie's dedication to his athletes and love of the sport manifested in experiences that made lasting impressions on his family, wrestlers, and the community.
There was the time that Jeramie was refereeing a youth tournament and noticed a young boy who was paralyzed with fear about to take the mat. Jeramie began joking with him, encouraging him and giving him fist bumps. The boy relaxed and completed his match. Afterwards, Jeramie rewarded him with M&Ms (one of his signature bribery tactics, says brother Jeff). The boy's father credits Jeramie and that experience for helping his son fall in love with wrestling.
A parent from another school recalled how Jeramie lifted her son up after a heartbreaking state tournament loss.
"Anybody can get a medal, but that medal will tarnish," Jeramie told the wrestler. "But they will remember you and how you conducted yourself on and off that mat. You're a winner, don't let anyone ever tell you anything different."
Nate Stepp, one of Jeramie's former wrestlers, recounted his junior-year team and their end-of-season comeback. Teammates who hadn't won a varsity match all year ended up winning matches at district, securing a win for the team and seven spots in the state tournament, which they later won.
"After one of our wrestlers qualified for state, Jeramie picked up our other coach and hoisted him in the air," Nate said. "He was so proud of everyone and so happy to see the mental fortitude that everyone exhibited."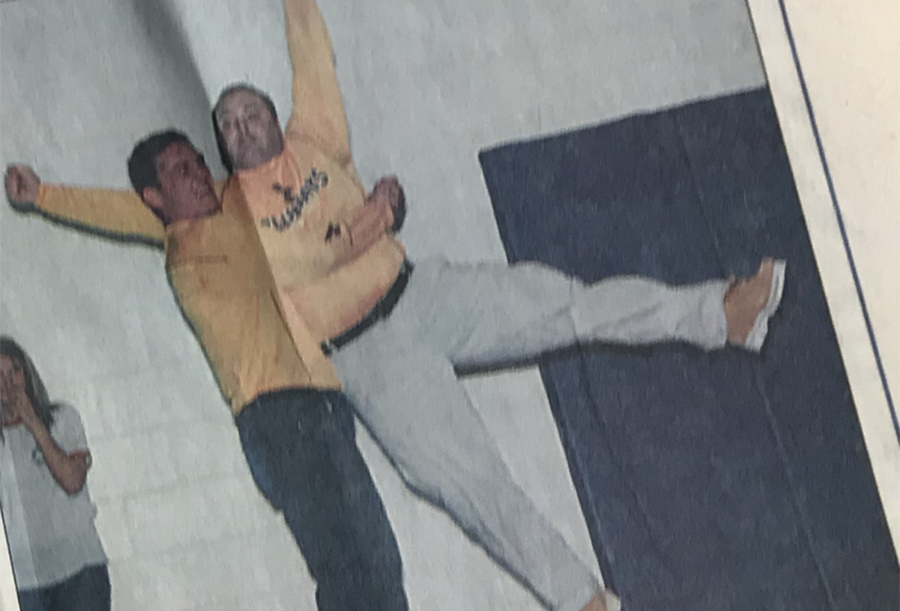 Mikah would summon that same mental fortitude two days after Jeramie died following an accident at work. Her basketball team had qualified for the state tournament and made it to the championship game. Mikah knew what she had to do.
"His coaching just kept pushing us: Don't quit," recalled Mikah. "I just knew I had to compete for him and my mom."
Mikah's team won the tournament and she and Emma continue to follow the example their dad set for them and others.
Jeramie was a registered organ and tissue donor. His decision to help others saved four lives, gave sight to two people and provided healing for dozens more.
Outside of sports, Jeramie was a man of faith. He and Kim mentored and encouraged high school students through their church. After Jeramie's death, the students registered to be donors in his honor.
"That's something that means a lot to us," said Karel. "That they would be willing to do that for others, like he did."
Six years after his death, Jeramie's memory and the lessons he taught loom large in the wrestling community.
Each year, a Seward wrestler is presented the Jeramie Schoepf Leadership Award — not for being the best wrestler, but for encouraging and leading members of the team. The Central 10 Conference gives the Most Valuable Wrestler Award in Jeramie's name. A traveling trophy was created for the winner of the annual York duel (a fierce conference rivalry). For the last six years the same "coaching from above" wristband has adorned the trophy in Jeramie's honor with strict rules never to remove it.
"When you think of Jeramie, and talk about him, you can't help but smile and laugh because of his personality, his laugh and loyalty, and the joy he brought to people," said Coach Core.
True to character, Jeramie never quit doing what he loved. He inspired others to reach their potential and beyond. He laughed often, cared always and left the world a better place for his athletes, loved ones and the recipients who have benefitted from his organ and tissue donations.
He did life. And he did it well.