Marsha Kesselring
In June 2016, Marsha Kesselring was starting hemodialysis again. She knew it meant another kidney transplant.
Her first transplant came from her mother in Omaha in 1998 after many of her family and friends had already been tested to be her living donor.
Marsha knew it would be even more difficult the second time around because her mother had been the only match she could find for her first transplant.
She had no brothers or sisters or blood relatives to donate.
Up until her first transplant, Marsha had been chronically ill her whole life. She dealt constantly with bouts of vomiting, nose bleeds, bruising, cramping and migraines. Most nights she'd fill half a glass of blood or her fiancé, Luke, would place hot washcloths on her legs until the cramps went away. Her weight dropped to 110 lbs.
At 23 years old, her mom, Coleen, kept telling her, 'Why don't you go see the local doctor, have them run some blood tests and hopefully it will tell us what's wrong.'
When she did, her doctor rushed her from the local hospital to a regional center after they saw how poorly her kidneys were functioning. She was diagnosed with stage 5 renal failure.
She was rushed into surgery to place a catheter and fistula and started dialysis the next day.
"It was the hardest and most challenging time in my life, but I had a strong relationship with Jesus and prayed for a transplant," Marsha said. "My family was also my rock! I stayed strong and positive even though I wanted to give up many times."
In the 19 years between her first and second transplant, Marsha faced a West Nile diagnosis from a mosquito bite that affected her kidney function, a C. Diff. diagnosis which led to an 80-pound weight loss, and eventually, anemia.
Her kidney started to fail, she needed blood transfusions and after two bouts of pneumonia, she was listed for another kidney transplant.
To help cope, Marsha started going to her local Mothers of Preschool Children support group for Christian guidance. She had married her best friend Luke and had an adorable daughter Kyndell after the first transplant. Originally from McCook, Marsha has lived in Gurley for more than 20 years.
It was at her support group that Marsha met Sadie, "a kind, gentle soul."
Marsha continued to see Sadie at her local hospital because Sadie was a phlebotomist trained to draw blood from patients.
"We would briefly chat every month about our lives and she became quite familiar with my situation," Marsha said.
As she continued to wait for her second kidney, Marsha recalls scrolling through Facebook one day and coming across a photo and description of a complete stranger. It listed his blood type, name and where his transplant coordinator was in the hopes of him finding a living donor.
"I thought to myself, 'Gosh, why don't I do this?'" Marsha said.
So, she did.
Marsha put her name, blood type, a photo and the phone number of her transplant coordinator in Colorado on social media.
Several of her friends and even complete strangers went through the evaluation process after seeing her post, but with no luck matching her.
She even found out later that three friends were privately tested on her behalf, two of whom couldn't donate due to health concerns.
The third contacted Marsha's coordinator and went through her medical history and blood work to determine if she was a match.
She was a perfect match.
"Guess who my guardian angel was," Marsha said. "You guessed it…it was Sadie!"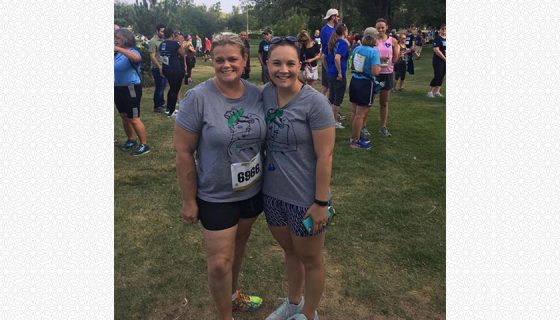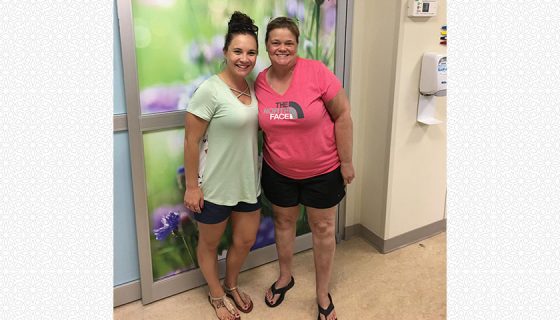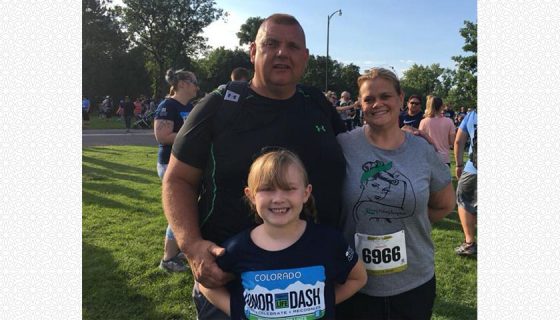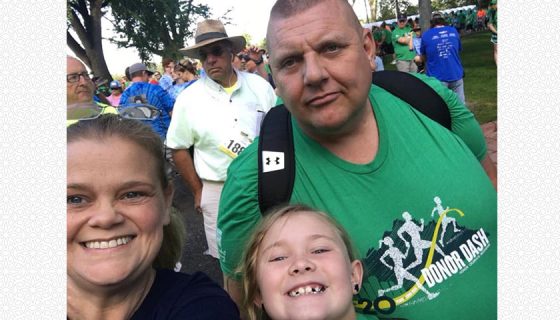 In July 2017 after waiting 11 months, Sadie donated her kidney to Marsha.
Since her second transplant, Marsha vowed to lead a healthier lifestyle and has participated in three 5Ks and has lost 40 lbs.
"Sadie believed that Jesus spoke through her to give me my life back and to be able to take care of our daughter," Marsha said. "She is the most selfless, deserving and generous friend I know."
"For with God nothing shall be impossible."
Luke 1:37