Kevin Carlson
"Today is a new day with new experiences, discard all of yesterday's truths. Be completely sensitive to each moment, in regarding it as utterly new and unique, in having the mind open and wholly receptive." – Kevin Carlson
Kevin was a lot of things: a comedian, a creator, an artist, a gamer, a son, grandson, brother, and friend. He was capable of so much.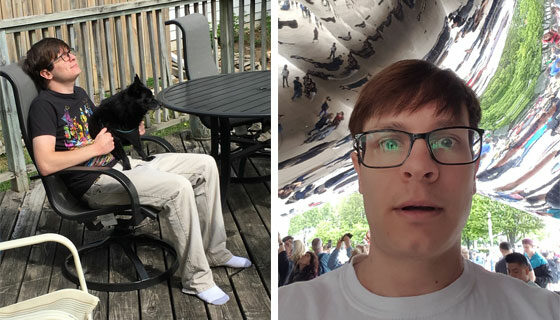 But he was blind. Blind to his value and worth, blind to his talent, his never-ending capabilities, his authenticity, and overall charm. He was blind to the positive impact he had made in so many lives. He found that staying outside was more comfortable than allowing himself to be seen as the person he truly was. And even when you wanted to convince him he was valuable and worthy, it somehow deepened his distorted belief that it wasn't true.
It has been over four months since we received the earth-shattering news that Kevin completed suicide. There isn't a single day that goes by where we don't think about him. As a way to honor Kevin in a personal, meaningful way, a tree will hopefully be planted in the fall in his old stomping grounds, Halleck Park. A place for friends and family to visit, reflect and remember Kevin for the wonderful human being he was. We are also comforted to know that Kevin will live on in others.
We encourage everyone to bring awareness to the alarming rise to death by suicide. Become an advocate to make change in our mental health crisis. To create a better system for those suffering from mental health to access services quickly. Love bombing, bullying and body shaming have infected social media platforms. We urge everyone to limit your exposure to social media. Get out and enjoy the company of others and this beautiful planet.
If you or someone you know is struggling with suicidal thoughts, please reach out. You may not believe it now, but your absence will be deafening. You matter. You are more than who you convince yourself you are.
Common warning signs someone might be having suicidal thoughts
Crisis support
Suicide and Crisis Lifeline 9-8-8
Sliding fee scale therapy in Nebraska
Non-sliding fee scale therapists
Support groups
—
Kevin will be forever 30. It is difficult to capture his pure essence and the impact he made on so many lives. Some parting thoughts from Kevin's family and friends:
"The silence is deafening. No longer will I hear him say 'Hi Mom' in that funny little voice. No longer will I listen to him practicing Karma Police by Radiohead repeatedly on his guitar. No longer will I watch in amazement as he sketches a drawing. No longer will I hear him screaming and cursing while playing a video game or the drop of the internet signal. I'm so lucky to be the Mom of such a kind, compassionate, funny, goofy, artistic, talented, smart young man. I didn't know that his life on earth was limited. I'm supposed to go before he does. I hope he knew how many people loved him. How much I love him. We had a conversation one time about what happens to us when we die. I didn't have the right words at the time but I think Keanu Reeves said it best. 'I know that the ones who love us will miss us.'" – Karin
"There is a huge hole in my being that will always be there for the loss of my son. I'm just having a hard time sugar coating something I see as a really intense tragedy. I was watching the Shawshank Redemption movie again recently. I love the idea of perseverance. Morgan Freeman (Red) has a line in the movie where he reflects on something Andy Dufrain said to him. 'Get busy living or get busy dying, that's God d—- right.' I needed to hear that again and I hope whoever reads this can realize that sometimes life is a wonderful thing." – Vern
"Suicide affects so many families.  If you know a friend or family member that is depressed, just call the suicide prevention line at 9-8-8. It could save a life. Love you Kevin." – Grandma and Grandpa
"As I've reflected on who my brother was, I realized that Kevin always worked hard at everything he set his mind to; art being one of them. We come from a family of innovators and creators. Something I always wanted to be part of but never trusted in myself to dive into: my creative side. Through my reflection, I wanted to embody a similar attitude to that of my brother, 'screw it, let's try it!' I hope you enjoy this video I made for him. It has been fun, emotional, and inspiring to find this new passion. This video reflects the version of Kevin I chose to continue believing. All the things he was to me. I love you, Kev." – Heather
"You were my favorite person to make laugh." – Treynor
"K-money was the heart, soul and spirit of the Godfather's family! We all love and will miss him dearly." – Jordan
"You were the best friend I could ask for. Always there to hangout, bringing with you your hilarious and creative nature. I'll miss you always, brother." – Alec
"Ever since knowing Kevin in high school, my life has been blessed with his creativity and his kindness. I will always remember the joy and laughs, the hilarious characters and his relaxing presence. I love and miss him dearly." – Ryan
"Art is the truest form of expression of a person's heart and soul, the very essence of their being. A blank canvas awaits you and I know that we all will see your hand in the little moments of beauty in this life that is oh too short. Much love." – Yance
"Kevin was the one who introduced me to my family and I will never forget that. He will always and forever be a part of my life." – Aaron
"Forever a friend on the RPG tables. From the road less traveled to groovin' in space, you'll always be voyaging among the stars." – Bizzle
"You always knew how to lighten up a room with your goofy self. I will always hold dear our Godfather days and the shenanigans that ensued every night we closed. NebCon was a perfect way to see you get out of your shell. Going to miss you brotha. Love you man." – Seth
"I'm glad that in middle school you took a chance on me. The awkward, weird kid who sat alone, with no friends. Not only were you the greatest and most important friend to me, but you're also the reason I have the group of friends that I do. Thank you for your friendship." – Brad
"Our first time hanging out 1 on 1, we took a break from building his gaming computer and he grabbed his guitar. He started playing Under the Bridge by Red Hot Chili Peppers and I started singing. He started laughing in his Kevin giggle and his smile got so big. Our friendship was solidified from there on. I love and miss you, Kevin." – Ethan
"If I could tell you how missed you are right now by your friends and family, you'd be smiling that goofy smile. I miss the noises we would use to talk, playing new games and asking our parents to take us to some board game shop. I just hope you know I've done everything in my heart and soul to honor you. I miss you buddy." – Adam