"I used to ask myself what my purpose in life was. I know now that it is to spread the word about organ donation until my dying day."
As a little girl, Mercedes Aguilar could never have imagined the journey her health would take her on, and how that would shape the person she is today.
She recalls having her first migraine headache in 5th grade. The migraines continued for years, accompanied by bladder infections, back pain, high blood pressure and more. Mercedes often missed school and didn't feel well enough to participate in activities.
Many doctors examined her, but it wasn't until she was in her 20s, and a month before her wedding, that Mercedes was finally diagnosed with a genetic disease.
By that point, she had foregone a full-ride scholarship to a college in Chicago.
The diagnosis was a double-edged sword. Mercedes was relieved to finally understand her condition but devastated by the reality of the situation.
"You can't marry me," she told her fiancé, Alex.
Her kidney was only functioning at 10 percent; she would need a transplant someday. Mercedes didn't want to burden him with her failing health.
But Alex persisted.
"I don't care about the wedding, but I want to marry you." Alex said. "In sickness and in health, I want to be with you."
Alex and Mercedes were married on October 17, 1992. Less than a year later, they found out Mercedes was pregnant.
Again, the news came with mixed emotions. The couple was excited to welcome a child into their family, but Mercedes' doctors had warned her against getting pregnant. They told her her body could not handle the stress of the pregnancy.
But Mercedes held tight to her faith.
At 28 weeks she delivered a 1 lb. 14 oz. miracle named Estefania.
The pregnancy took its toll on Mercedes' body. But with diet and medication, she was able to manage her symptoms until 1997.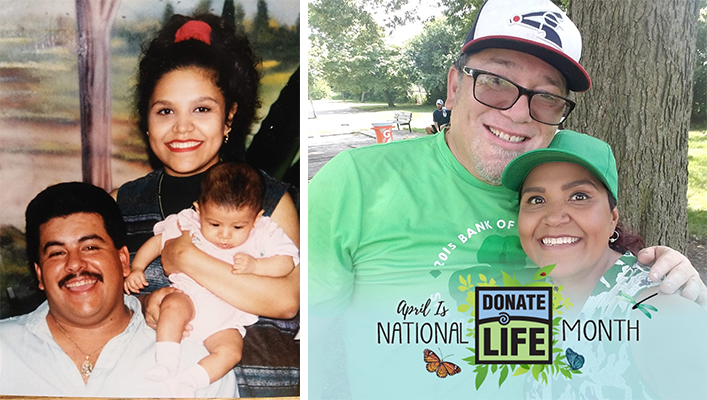 She began dialysis for the first time then. Mercedes says the treatment is a gift for end-stage renal disease patients like her. But it didn't come without hardship. While on dialysis, Mercedes always felt sick to her stomach. She had to limit her fluid intake and the rigidity of the treatment schedule meant she often missed special events. She admits it was hard, but worth it.
"Nothing replaces a real kidney," she said, "but that machine gave me life while I waited."
Two years later, some of Mercedes brothers surprised her by being tested to be living donors. Her older brother, Gerardo, was a match.
"He gave me so much time," Mercedes said. "I used it to its ultimate purpose."
She felt better almost immediately after her transplant. Her blood pressure returned to normal; her other symptoms subsided.
She finally got the opportunity to attend college and became the first woman in her family to graduate. She had a second daughter, Aleah, at age 40.
After 11 years, her body began to reject her brother's kidney.
Mercedes waited eight years for another one. During that time, she had a heart attack and was in out of the hospital. But she never doubted that a kidney would eventually come her way.
"I had a lot of faith….and never did I ask 'why me'," she said. "I always said 'Lord just please give me the strength to keep fighting.'"
She was blessed with that strength, and eventually, a second transplant.
"Life is something I will never, and have never, taken for granted," Mercedes said.
She says donation has given her many things, but most importantly, quality of life. She has energy to be active with her daughters. She can help take care of her mother and love on her nieces and nephews.