On September 4, Live On Nebraska proudly presented Meridian Public Schools with its Community Hero Award.
The Community Hero Award was created to recognize members of the public who go above and beyond to support Live On Nebraska and help raise awareness for the importance of organ and tissue donation. Meridian Public Schools was the first recipient of the Award.
In 2019, the community of Daykin Nebraska tragically lost two high school students, Garrett Klipp and Peyton VanWesten. Both Garrett and Peyton became donor heroes and saved and healed dozens of people by giving the gift of life.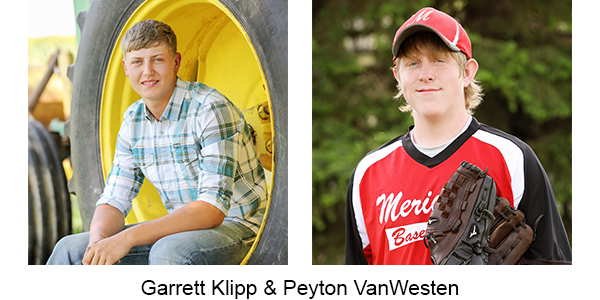 Not long after, Live On Nebraska received an invitation to visit Meridian Public Schools and help educate the students about donation and share how Garrett and Peyton made a difference for their recipients.
Since then, the students, faculty and surrounding communities have held several events to honor Garrett and Peyton and help raise funds for Live On Nebraska's efforts to increase the number of donors in Nebraska.
The Elementary School Student Council donated three year's worth of proceeds from their annual Fun Run. The Superintendent, Randy Kort, shared a message with other school administrators to encourage donation education. The FFA students held a tailgate fundraiser before a football game. A banner at the local baseball field celebrating Garrett and Peyton reminds visitors of the importance of donation.
Proceeds from these events have raised nearly $20,000 for Live On Nebraska.
Teacher Echoe Davis, Principal Harold Scott, Andy, Mandy and Allison Klipp, and Jay, Staci, and Jake Van Westen accepted the award on behalf of the School.