"Do you know who this man is?" Lois Stade asked her four-year-old granddaughter as the two met Jose Mullen for the first time. "He knows Daddy now."
In a cozy room filled with the smell of coffee beans, Jose then embraced Katie Markvicka as she teared up after seeing her daughter and mother-in-law meet someone who would become so special to their family.
"Hi Katie," he said as he brought her in for a hug. Tears began to fall from her eyes as he told her, "It's okay. Thank you so much. Thank you, thank you."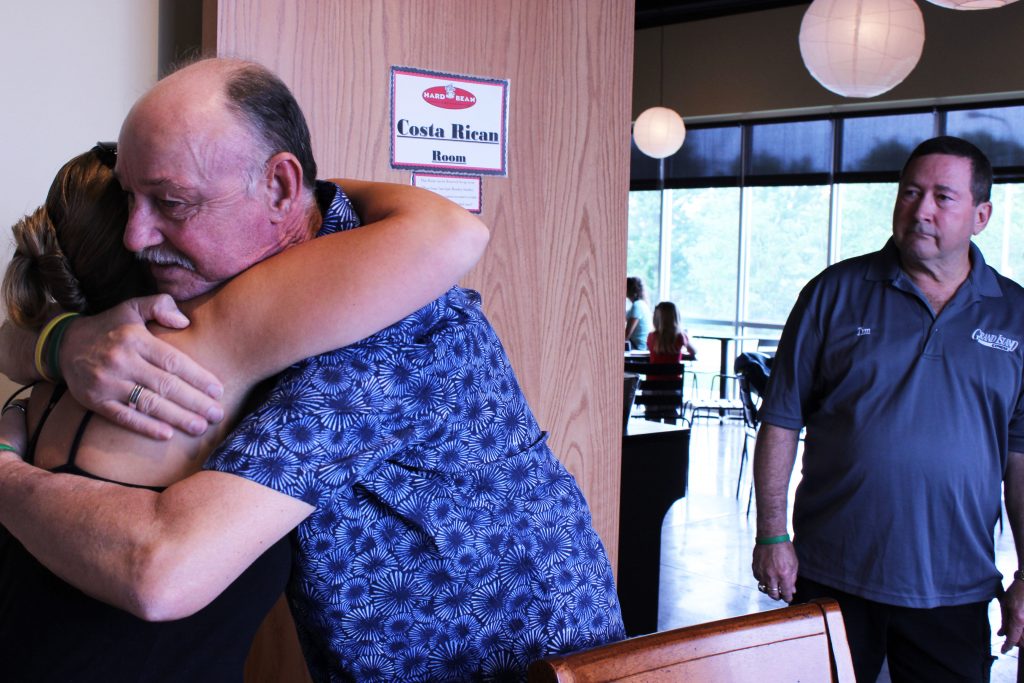 Katie Markvicka, left, and Jose Mullen, middle, hug during their first meeting on July 13 in Omaha. Jose received a kidney transplant after Kenny, Katie's husband died in a motorcycle accident in late May. Kenny's father, Tim, right, looks on.
The ducks are all in a row
For some, Friday the 13th is a day of bad luck and misfortune. But for the Markvicka family of St. Paul and this man from California, it was a day of gratitude, appreciation and maybe even a little luck.
When Katie's husband, Kenny Markvicka, died in late May after a motorcycle accident, his family made the decision to donate his organs. They prayed he would live on in someone from California — a place that Kenny held close to his heart.
Kenny's wife, parents and four-year-old daughter discovered their prayer was answered when they met Jose, one of Kenny's kidney recipients, for the first time on Friday in a small Omaha coffee shop.
Jose lives in California and had been waiting for a transplant for five years. He originally listed with a transplant center in California, but last year, with his health continuing to deteriorate, he also registered on the waiting list at Nebraska Medicine in hopes of receiving a transplant sooner. When he received his transplant in Omaha on June 2, his kidney was only functioning at 10 percent.
And if you ask Kenny's family, they'll say they couldn't have chosen a more perfect recipient.
Kenny had traveled to California several years ago to complete alcohol rehab. While he was there, he fell in love with the location and even planned to retire there with Katie when they were able.
He was 31 when he died and loved the outdoors and Nebraska sports. Kenny also donated his left kidney, heart and lungs.
Even more perfectly, Jose is a trained alcohol and drug counselor in California. Previously, he worked at a drug and alcohol inpatient treatment center for five-and-a-half years and at a DUI program for 12 years.
"If Kenny could have picked somebody to take his kidney, I don't think he could have picked a better person," Katie said during the families' two-hour meeting. "The fact that you're an alcohol and drug counselor and from California is amazing."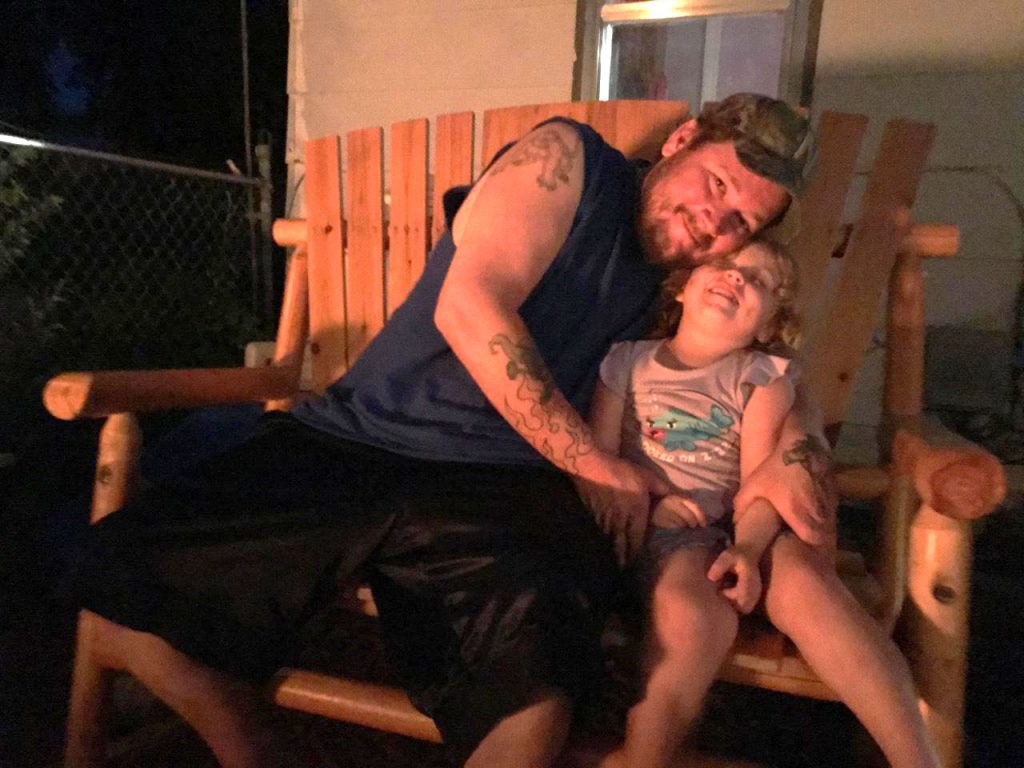 Kenny and Jasmine Markvicka, photo courtesy of Katie Markvicka.
A deeper connection
As of April, Jose has been sober from alcohol for 22 years and quit smoking 21 years ago.
"I don't miss any of that," he said as he told the Markvicka family more about himself and his recovery after transplant surgery. "My life has gotten so much better."
That's something Kenny would have admired, in addition to the work Jose does now to help people as a counselor. Kenny's family describes him as someone who always wanted to help others. Kenny had even started filling out an application to become a police officer just before he died, because he wanted to help others in that way.
"It's exactly what we talked about," said Kenny's father, Tim. They all had prayed someone who helps others from California would receive Kenny's donation.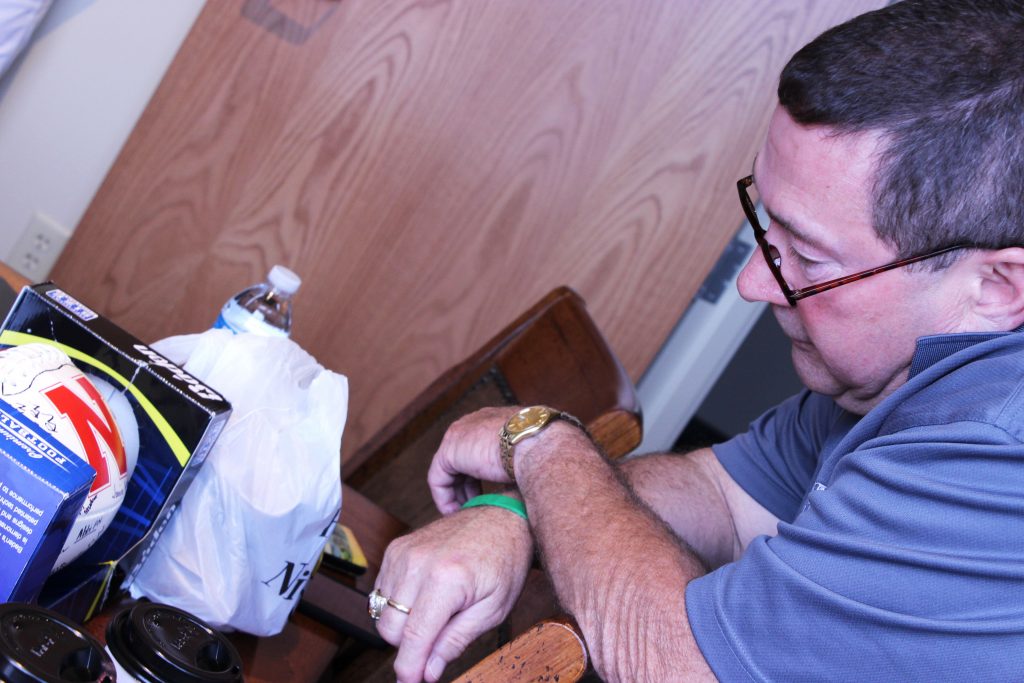 Tim Markvicka looks at a Nebraska football signed by Kenny Markvicka's medical team at Bryan Health and his donation team from Nebraska Organ Recovery. Kenny was a Nebraska sports fan and an organ donor. The football was given to his family at the donor family-recipient meeting on July 13. 
A real blessing
After meeting the Markvicka family and learning more about his donor, Jose said the ducks are lining up and are all in a row.
But that doesn't mean his happy ending came without hiccups.
In February, Jose had actually been removed from the transplant list because he didn't have a caretaker to attend educational sessions and to assist him during recovery. That's when his caretaker, Susan, stepped in and began the process over again to get him listed in Nebraska.
Jose and Susan were planning to visit Omaha on June 14 for an annual checkup but received the call to get to Nebraska two weeks earlier than planned to have the transplant surgery.
"I think the good Lord took you off the list because He knew Kenny would be there soon," said Kenny's mother, Lois.
Now, both families plan to stay in touch and even reunite in November when the Markvicka family plans to travel to California.
"This was a real blessing, and I thank God it worked out just perfectly," said Jose.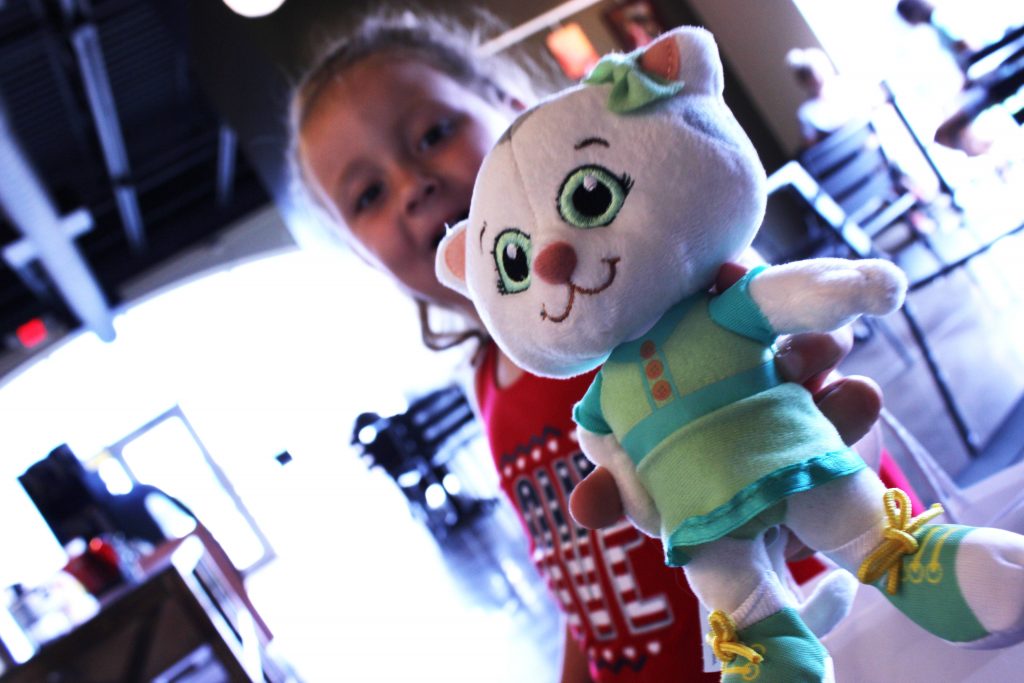 Jasmine Markvicka holds a stuffed animal that she received from Jose Mullen on July 13 in Omaha. Jose received a kidney transplant after Kenny Markvicka, Jasmine's father, died in late May.
Give the gift of life by
registering
as an organ, tissue and eye donor today.