When there's something as monumental to celebrate as a second chance at life, you make the most of the celebration.
For Amy Reiner and her cousin, Dave, that means giving the celebration its own name.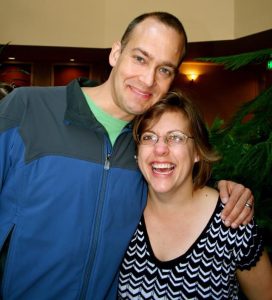 Every year on Jan. 30, Amy and Dave celebrate Smittyversary. It's a celebration named after the kidney Amy donated to Dave.
They named the kidney Smitty, which led to the natural title of Smittyversary each year for the last 10 years.
Amy is the Director of Production and Propmaster at the Bluebarn Theatre. She's been involved with theatre since high school about 30 years ago and is a huge animal lover with two "spoiled rotten cats named Lucy and Ethel, and two fish named Yosemite Sam and Elmer Fudd."
She's also been a volunteer at Heartland Equine Therapeutic Riding Academy for three and a half years and absolutely loves it.
"I am pretty hard working and have a wonderful sense of humor," she said.
Ten years ago, Amy donated her kidney to Dave, who had polycystic kidney disease. This disease causes clusters of cysts to develop on the kidneys and sometimes the liver and leads to high blood pressure and kidney failure.
Dave, however, was in North Caroline, and Amy was in Omaha. Most of the testing she needed to complete had to be done in Omaha and then sent to North Carolina, while the surgery was at Duke University Hospital in Durham, N.C.
Amy recalls that the testing process was long.
"I would talk to someone or send a test and then wouldn't hear much for a while," she said. "When the call came that yes, I was a match and let's go forward, I was surprised but excited."
The night before surgery, Amy said she didn't sleep at all.
"The day of, the nervousness and fear started creeping in a bit," she said. "I had never had major surgery like that."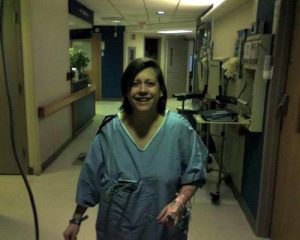 After making it through, Amy said Dave started improving almost immediately.
One of Amy's struggles came after trying to head back to work too soon.
"I tried going back 13 days after surgery," Amy said. "I believe that is why it took so long for my recovery. I would feel great, push too hard and then be set back (by) days."
Amy also struggled over that next year with some depression.
"They did warn me about that, but I didn't recognize the signs," she said. "Luckily, a very good friend did recognize it. I started talking with a therapist shortly after that and she helped me tremendously. Just realizing what was happening helped."
Dave is still doing well, and Amy is currently looking forward to celebrating Smittyversary with he and his wife, Cathy, in Houston.
"It makes me feel very good that I have been able to help someone like that," Amy said. "It made me appreciate life and other people's struggles quite a bit more."
Bluebarn's upcoming production I and You will feature a panel regarding organ, tissue and eye donation. The panel will follow the show's Feb. 17 performance and will feature Amy alongside several other community members with ties to donation.