Not long after the Reischl family moved to their new home in southwest Omaha, the wheels in Chad Reischl's head began turning.
The father of four noticed a lot of foot traffic on the surrounding sidewalks and concluded the family's corner lot would be the perfect home for a little free library.
At the same time, the Reischl's 11-year-old son, Boden, had developed a love for reading, tearing through several popular series. He had completed Harry Potter, The Hunger Games and was working his way through the Maze Runner.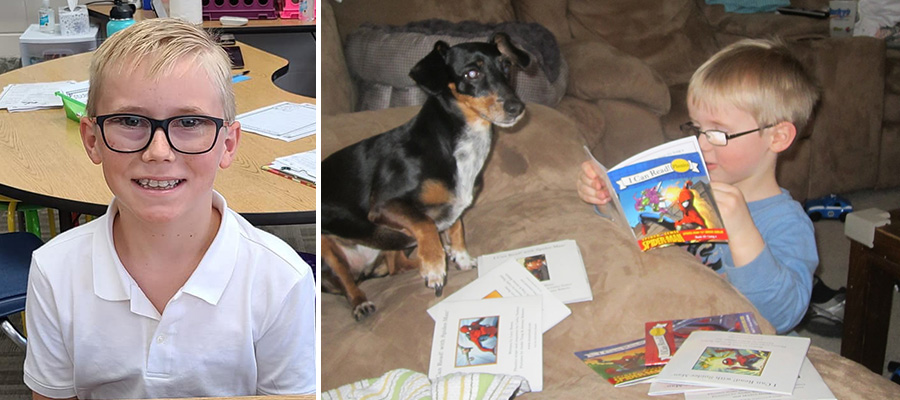 Boden was a straight-A student, a jokester, and an artist who collected and drew Pokémon with his brother Riley. He played softball and basketball with his big sister Mya, and dinosaurs and Barbies with little sister Olivia. He loved video games and throwing the football in the yard with his friends. He was organized and methodical. Most of all, Boden had a kind heart, loved people and cared for others.
Chad's plans for a simple library changed when Boden passed away suddenly from an undiagnosed heart condition in April 2021.
He and his wife Inga made the decision for Boden to be an organ donor, saving three lives.
"We decided if Boden wasn't going to be coming home with us, maybe he could help serve other people," said Chad. "He was a very caring and giving kid. He was always smiling—always happy and always nice to those around him. We just figured it would be something he would want to do."
In the months following Boden's passing, Chads' thoughts returned to the library. The project he intended to complete with his son would now be a tribute to him. The Reischl's little free library would officially be known as Boden's Books.

"With his love of reading and it being something we had already considered, we thought it would be a nice memorial," said Chad. "I don't know if I would have gone that big if it was just me and Boden, but when you are building a memorial for your son, you kind of go overboard."
In October, a local company donated their time and created a large, manicured area where the library would eventually sit. They laid paving stones and planted flowers that would bloom in April, the month of Boden's birthday, his donation, and Donate Life Month.
Then, Chad got to work building the library.
A self-proclaimed "fairly handy guy," Chad tackled most of the project himself.
When he had to figure out how to mount the box or attach the doors, Chad could count on the help of "even handier guys" to get him over any hump.
The finishing touches included a custom Boden's Book plaque and a mural representing all things Boden that was hand-painted by Chad's friend, a high school art teacher.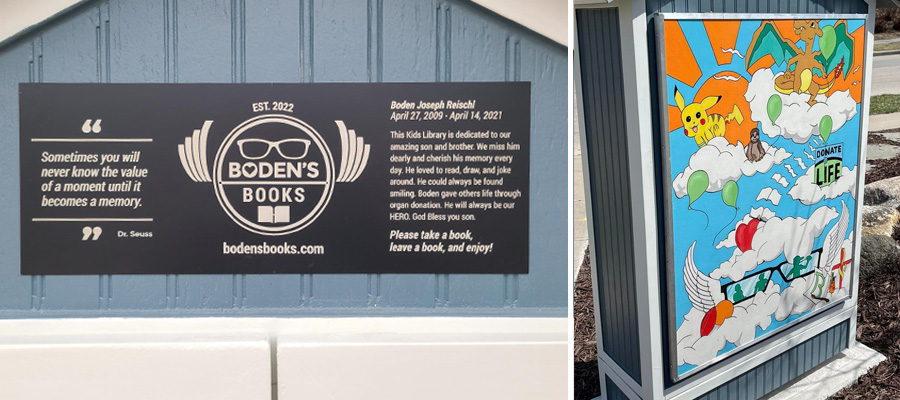 Silhouettes of Boden and his best friends playing catch are depicted on the lenses of Boden's signature glasses. There are monogrammed art supplies, a cross, and books flying up to heaven. Boden's favorite Pokémon characters sport green Donate Life bracelets and the Donate Life logo sits atop a cloud.
Chad announced Boden's Books on social media, setting a date for a dedication and inviting family, friends and their church community to contribute books for the library.
Book donations poured in leading up to the dedication. The library holds 360 books. More than 5,000 were donated in Boden's honor.
On April 15, over 200 people gathered to remember Boden and cut the ribbon on his little free library.