James Bissonette didn't do anything half-heartedly.
The 34-year-old from Broken Bow, Nebraska, lived his life with intention – focused on working hard, being a good dad and husband, and serving others.
James first gave his heart to Michaela, his high school sweetheart whom he dated for seven years. The couple married in 2011 and had two children, Ella and Jack.
In high school, James worked on local ranches and took an interest in helping with prescribed pasture burns. This enthusiasm later translated into a meaningful way to give back to his community.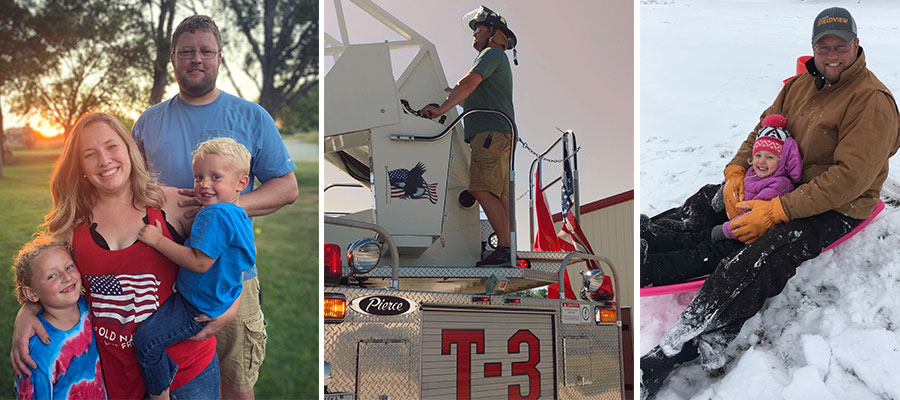 In the last few years of his life, James devoted his spare time to the Broken Bow Volunteer Fire Department. He took pride in driving the ambulance for the EMS crew, training to shave seconds off the time it took to put his gear on, and making sure he had a thorough understanding of the equipment and technology that would help him and his crew respond quickly to fires and accidents.
James was passionate about doing his work well and saving lives.
Earlier in life, James had made another commitment that would save lives, too. James was a registered organ and tissue donor.
And that's how James gave his heart away a second time.
In September 2021, James was hospitalized with complications from COVID. His condition worsened.
"When I asked the doctors if he would be leaving the hospital, and they told me 'no', I was crushed, lost and heartbroken," said Michala. "I prayed so hard for God to give his life purpose. I needed his leaving us to have a purpose."
Michaela's prayers were answered when she learned James could still be an organ donor, despite having COVID.
"Even in the midst of our own heartbreak, I couldn't stop thinking of those families that were getting a call saying that a match was found, that their loved one was getting a second chance," Michaela said.
When it was time for the donation surgery, James' family, friends and fellow firefighters joined the staff of Bryan Health and Live On Nebraska in a tradition known as an honor walk. As James was wheeled to the operating room, he was given a hero's send-off to pay tribute to his lifesaving act.
Michaela said James' best quality was his willingness to give of himself and his time to others whenever he could.
It why she says James' heart was a "heart of gold."
And that's why it's fitting that James' heart is living on in someone else.
---
Following James' passing, Michaela left her job as an executive assistant to spend more time with her kids and expand her home-baking business, Ella and Jacks Home Bakery.
"Our family has been blessed with amazing people, organizations, and so much more," Michaela said.
With Valentine's Day approaching, Michaela was looking for a way to give back in honor of James.
"Since we call his heart a heart of gold, I thought it would be fitting to donate all the funds from a Valentine's Day sale to Live On Nebraska in honor of James and the donation of his heart."

Michaela hosted a pop-up bake sale on Friday, February 10 at Lillie Kate Boutique in Broken Bow and featured sweet treats with Valentine's Day themes from heart-shaped Spidermen to "Love Shack" campers.
Community members lined up outside the Boutique to remember James and snatch up some of the goodies. The bake sale sold out in just 45 minutes, but people continued to contribute to the fundraiser, eventually raising more than $5,300 for Live On Nebraska.
The next day, Michaela shared what the event meant to her on Facebook.
"Some pretty special things happened yesterday. A community that rallied around us once before did it again to honor James. We spread the word about organ donation and how it can change so many lives. Yesterday in the middle of the chaos of selling cookies I hugged and cried with a mamma that I barely know whose life was changed when her little boy was given a second chance because of organ donation. Yesterday reminded me and many people that God shows us that there can be beauty in the midst of pain. Thank you so much to everyone who came and supported the pop up bake sale in honor of James and his gold heart."