In 2011, life was good for Malcolm Robbins and his wife Jackie. They owned the Rib Shack, a successful BBQ joint in St. Louis that they'd built from the ground up. They were raising nine children and had just returned from a whale-watching trip in Maui.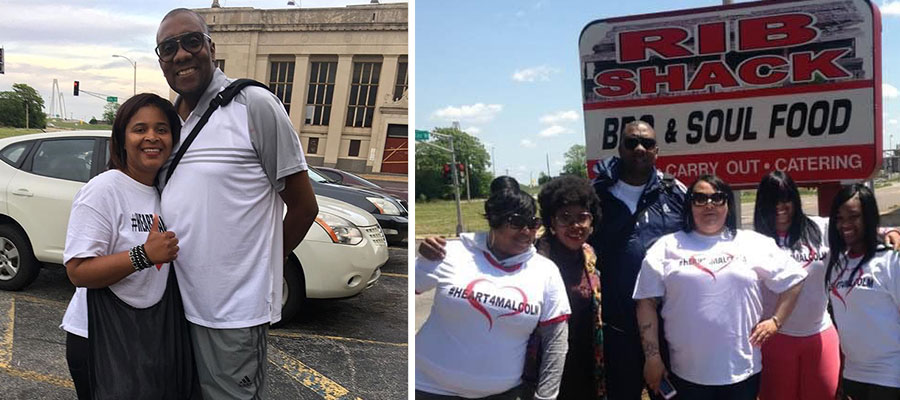 Around that time, Malcolm's aunt Marcia began calling, encouraging him to get a checkup. Their family had a long history of deadly heart disease and Marcia wanted to make sure Malcolm's story turned out differently.
Malcolm brushed her off.
"Auntie, there ain't nothing wrong with me," he told her. "I'm living my life. I'm having a good time."
Marcia persisted. And when Malcolm continued to dismiss her, she took matters into her own hands, driving from Colorado Springs to St. Louis and showing up unexpectedly at the Rib Shack. She had an appointment already scheduled for Malcolm.
Doctors discovered a tear in Malcolm's aorta, and he was scheduled for surgery the next day.
Aunt Marcia saved Malcolm's life.
The journey to a new heart
The surgery to repair Malcolm's aorta was just the beginning of a long journey to a new heart. In 2012 he was diagnosed with congestive heart failure. A healthier diet and medications sustained Malcom until 2014 when he no longer had the energy to walk the short distance from his bed to the bathroom.
Malcolm was placed on the transplant waiting list in St. Louis and in 2015, doctors implanted a battery-operated pump called an LVAD into Malcolm's chest to buy him time until a heart became available.
Malcolm felt better immediately, giving him a false sense of security.
"At that point, it wasn't really registering how serious it was," said Malcolm. "I had the LVAD to carry, but I was still trying to live the same life I was living beforehand. Still drinking, still doing my little party thing. I wasn't doing the right things. I made it worse and worse and worse."