Thanks to his organ donor, Eric Horpedahl lives a full life that includes planning a wedding and even the ability to do exercises as simple as riding a bike. At 32 years old, he even participated in Omaha's Fight for Air Corporate Cup 2-mile course and 10K in September and the 2018 Donate Life 5K & Heroes Walk in April.
These are all things he was unable to do before his double-lung transplant in January 2018.
Eric is a research analyst for Wells Fargo and recently proposed to his fiancé Dawn Hentges, a receptionist for a small veterinary clinic. The two live in Sioux Falls, SD, and have embraced life post-transplant with energy and gratefulness.
His story of transplantation began just eight months after he was born.
At that time, Eric was diagnosed with cystic fibrosis. Cystic fibrosis causes lung infections and makes it difficult to breathe because of a thick build-up of mucus that clogs airways and traps bacteria.
As a child, the diagnosis didn't play much of a factor in Eric's typical day-to-day activities. Every three months he would visit the doctor, do a breathing treatment once a month and took minimal medications.
Although he played basketball, his stamina did not match his peers on the court.
Eric stands next to his sign at the Corporate Cup after finishing the 10K with his medal around his neck. 
At 16 years old, Eric began to feel the effects of his condition. As a junior in high school he was admitted to the hospital for respiratory issues, and at this time he was also diagnosed with diabetes. He was then admitted again for respiratory concerns as a first-year in college.
When he and Dawn met in 2015, she says he seemed like a healthy individual; but that quickly changed when he was again admitted to the hospital in 2016 and 2017 with pneumonia.
During his stay in September 2017, he made the decision to ask his doctors about a recommendation for transplant.
From there, he was referred to Nebraska Medicine in Omaha and officially listed for transplant on Jan. 2.
After just one day on the waiting list, Eric received a call to come to Omaha for his transplant, but those lungs did not end up suitable.
"When we got that phone call so soon after being listed, our first emotion was shock," Dawn said. "I was also scared at the thought of what could happen to him during the procedure, but we had to remain optimistic."
So, they waited for another phone call.
And it came Jan. 18.
Eric and Dawn spent a long day in the hospital preparing for surgery, still unsure if he would receive the lungs.
At 8:57 p.m., hospital staff took Eric to the operating room for an eight-hour surgery that Dawn describes as "the most excruciatingly long eight hours of my life waiting for updates every two hours."
Afterward, Dawn and Eric both knew the road to complete recovery would be a long one.
Following transplantation, Eric has much more energy and can walk from the living room to the kitchen, climb stairs and go to the gym without problems.
Although he and Dawn have not communicated yet with the donor family, they do plan to contact them to express how "eternally grateful we both are and that without their selfless act, Eric may not be here today."
"They saved his life," Dawn added.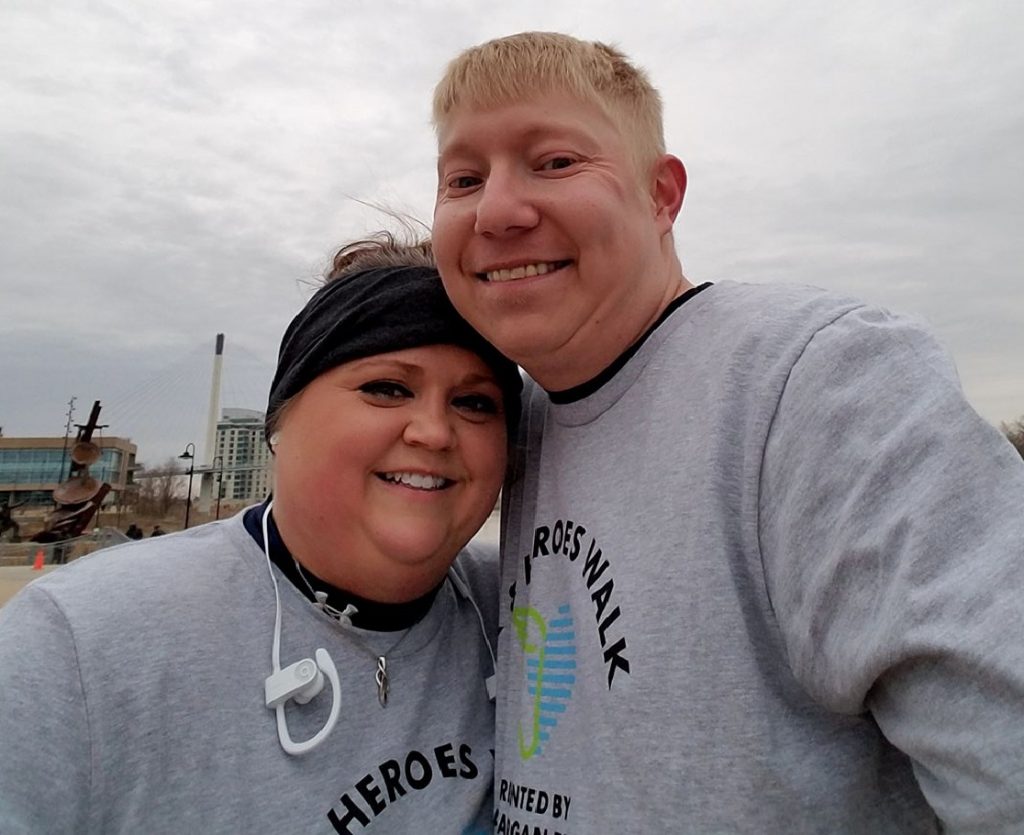 Eric and Dawn take a selfie at the 2018 Donate Life 5K & Heroes Walk presented by Nebraska Organ Recovery. 
Eric and Dawn both encourage everyone to become a registered organ donor.
"You never know whose life you may save," Eric said.
He added that he also encourages everyone to be aware of the challenges faced by those affected by cystic fibrosis. Currently, there is no cure for the disease, but he of course hopes for one in the future in combination with donations and awareness for research.
One organ donor could save eight people.
Register
as an organ, tissue and eye donor today.