Brandon Huber loved working with his hands. The 42-year-old from York could often be found remodeling his home, tooling around on cars or doing construction work. Above all, Brandon was devoted to his four children. He was kind, patient and always willing to help others; Brandon saw the good in everyone.
Brandon impacted 100 lives when he became a donor hero in 2021. Recipients in 21 states have been saved or healed by Brandon's gift of life.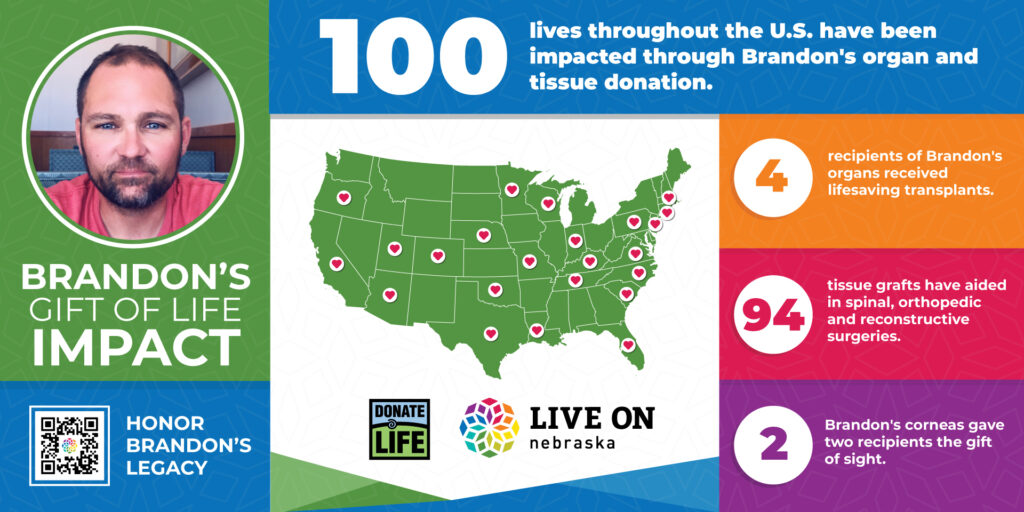 Brandon's gifts of organ and tissue donation have restored the health and quality of life for people of all ages. The recipient of Brandon's lungs was healthy and fit prior to contracting an autoimmune disease that was worsened by COVID. After his transplant, the recipient was able to ride a bike and garden again and was looking forward to attending his sons' weddings and college graduations. Brandon's tissues have returned mobility and quality of life to people undergoing spinal fusions. Skin grafts helped women recovering from breast cancer and his corneas gave two others the gift of sight.
Brandon's wife Kayla said his donation has helped her process the loss of her husband and that she and his children are thankful that Brandon's donation has been a blessing to others.
"Brandon's gift of life will help so many families not have to go through the loss of their loved one."
That makes them proud.