It's Thursday, November 23, 2017.
Kathie Reisdorph and her family have gathered in Grand Island to celebrate Thanksgiving. Her 9-year-old-Grandson Jack has an important task on his mind: writing thank-you letters.
In Omaha, Ron Fees celebrates at his sister Mary's house. It's not where he typically spends Thanksgiving, but he's happy to be there. His family makes a big deal of him.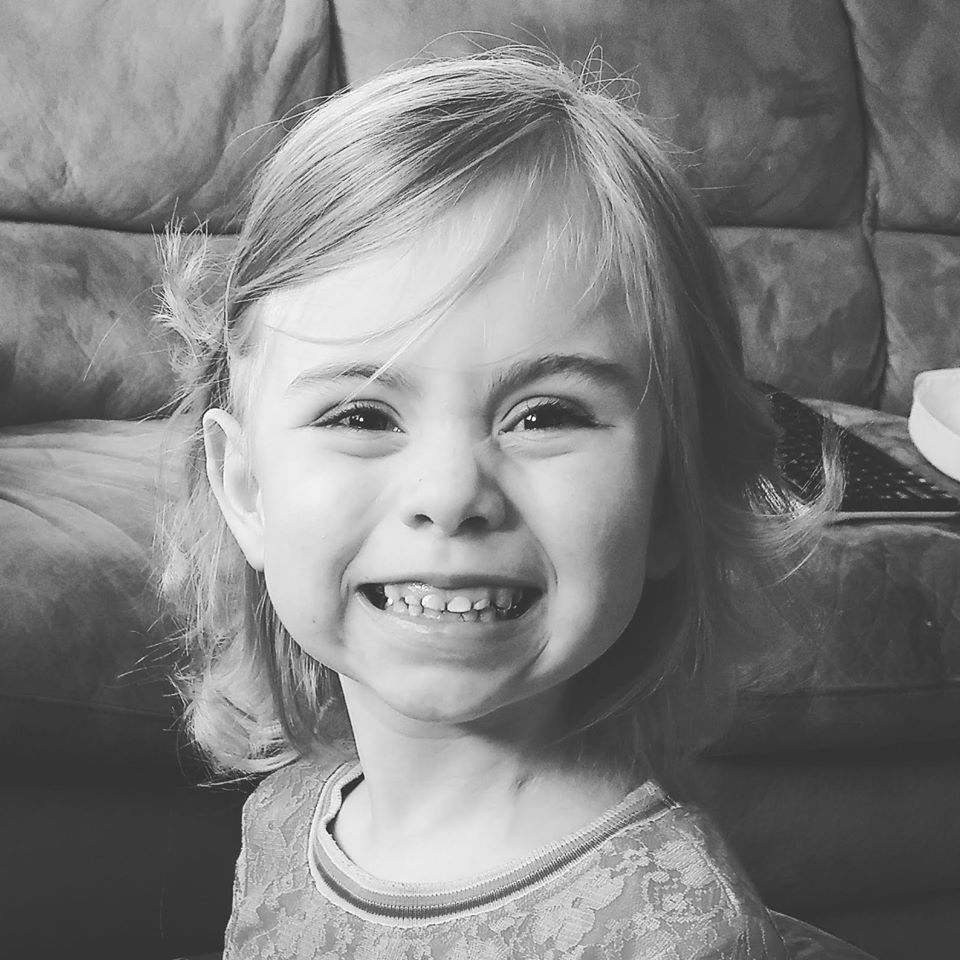 Kelly Feurhoff and her 3-year-old daughter Lexi travel from Omaha to Randolph. They'll enjoy turkey, green bean casserole and cheesecake made by Kelly's brother. And this time, they'll spend the night.
Just three weeks earlier, things were much different for Kathie, Ron and Lexi. On October 28, each would get a call — "the call" — that would forever change their lives.
A new heart was waiting for Kathie.
The once-active retired nurse had her first heart attack when she was 50. Seventeen years later, she had another and the previous treatments were no longer working. After a stay at Nebraska Medicine, doctors sent her home with a left ventricular assist device (LVAD) to keep her heart pumping. Shortly thereafter, they added her name to the national transplant waiting list.
Lexi would receive a new kidney.
Born with congenital nephrotic syndrome, she had endured medications, blood transfusions, surgeries and frequent hospitalizations her entire life. Eventually, both of her kidneys were removed and she relied on dialysis to do their job. For 15 months, Kelly, a single mom, would administer the dialysis in their home every night for eight hours at a time.
Battling cancer, Ron needed a new liver.
The husband, father and grandfather ran a lawn and irrigation business with his son. But working became nearly impossible as Ron endured chemotherapy to shrink the seven tumors on his liver while he waited for the call to come. The first call came on October 25; but that day, his transplant was not to be. Four days later, another call came. After the transplant, Ron's surgeon told him he "had a Cadillac in there."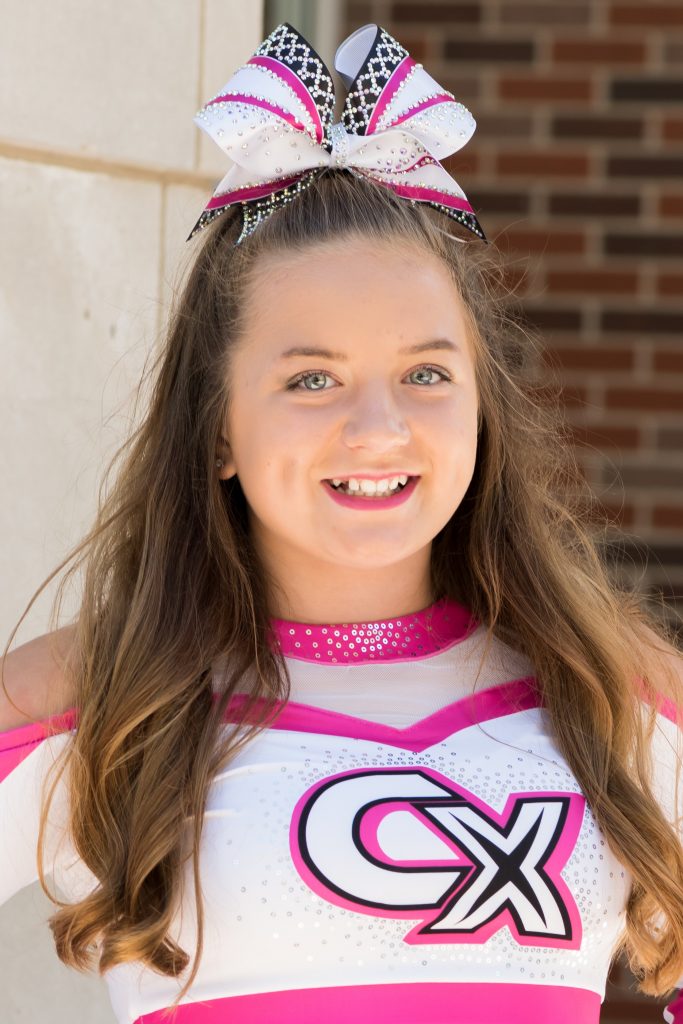 A "Cadillac," because Ron's new liver — and Kathie's heart and Lexi's kidney — would come from 13-year-old Ryan Post. A healthy Norris middle school student, Ryan died as a result of a car accident earlier that week. Her mom, Colleen Lovett, made the decision to donate Ryan's organs and tissues.
"Without hesitation, I knew that if I could help some other family not have to bury their child, then I was going to do everything I could to do that," said Colleen.
Two other recipients also benefited from Colleen's decision. Ryan's lungs went to a 16-year-old boy; another boy, four years old, received her other kidney.
Ryan, Colleen says, was friends with everyone. It didn't matter if it was a student three years younger or the janitor of the school.
"If you were around her, you couldn't help but have a smile on your face," she said.
When she wasn't in school, you'd find Ryan perfecting her back flips and toe touches in cheer club. She also loved camping, going to the lake and tubing.
Fast-forward to Thanksgiving Day, Kathie, grandson Jack and four other members of their family sat down together to express their gratitude to Ryan's family, each writing their own letters.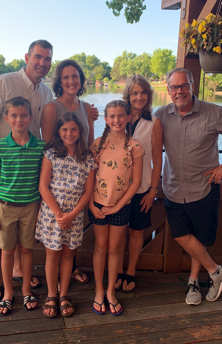 "We said a prayer of thanks for the extraordinary gift of life from Ryan and her family," Kathie penned.
"I feel very happy that Nana got a heart, but very sad for Ryan," said her granddaughter Sydney.
"The decision you made…was so selfless and with such great love for others," Kathie's son JT declared.
Around the same time, Ron also sent a letter. He too thanked Ryan's family and told them he thought of them every day. If they were willing, he wanted to meet them.
"I was rather anxious to meet them," he said. "I just wanted to say thank you in person."
That day came the next April.
Colleen, one of her daughters and close family friends met Lexi, Ron and their families following Live On Nebraska's annual Donate Life 5K. Colleen had made shirts for each of the recipients to wear to the event. Ryan Strong, Ryan Lives On it said, with Ryan's silhouette in a pink bow and angel wings.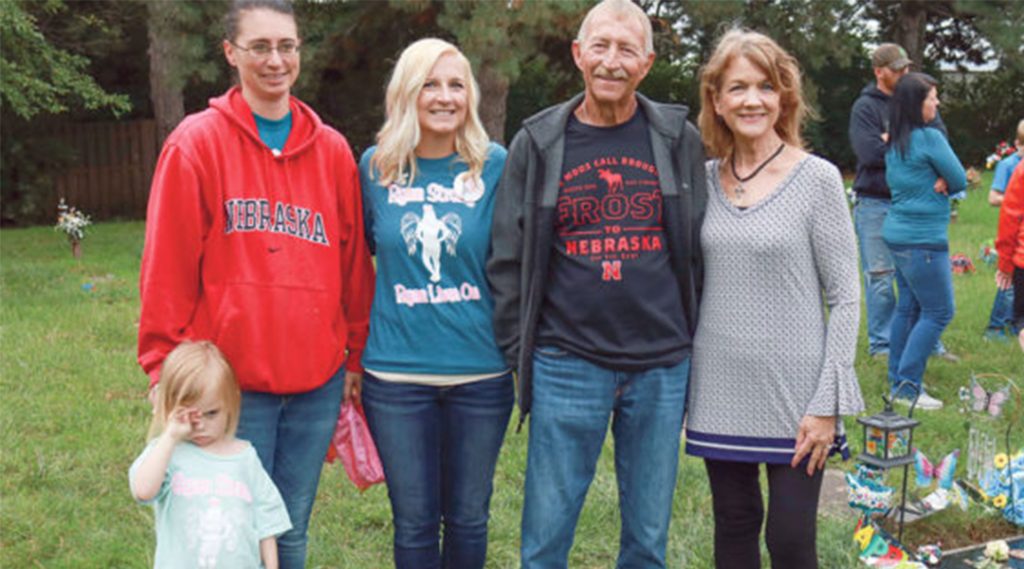 Kathie met Colleen and family for the first time on what would have been Ryan's 14 birthday. Ron and Lexi were there too. The group released balloons and planted a tree at Blue Stem Lake in Ryan's honor.
They all keep in touch regularly.
Colleen says the relationships she's built with Ryan's recipients have been part of her healing.
"I've been comforted by them and their support," she said. "They celebrate my successes and support me if I'm having a bad time. I love them just as if they were my own family."
For Kathie, Ron, Kelly and Lexi, gratitude comes easily.
"I'm thankful for being able to be healthy again, for the gift of this heart," Kathie said.
After her transplant, Kathie says she just "took off."
She travels, volunteers and shares her story whenever she can. In August, she and Colleen gave a joint presentation about organ donation. Kathie recalled her near-death journey waiting for a transplant; Colleen shared her experience donating Ryan's organs to help save others.
Lexi started kindergarten last fall.
Kelly says the five-going-on-15-year-old is sweet, sassy, independent and resilient. If you didn't know she had a transplant, you would never know she was sick.
With less medications and no dialysis equipment to move around, Lexi and Kelly can travel and make overnight stays. They moved to Seattle last year but will be back in Nebraska to spend the holidays with family.
Lexi tells people that she "got her kidney from Ryan" and Kelly says she'll continue to explain what that gift means as she gets older.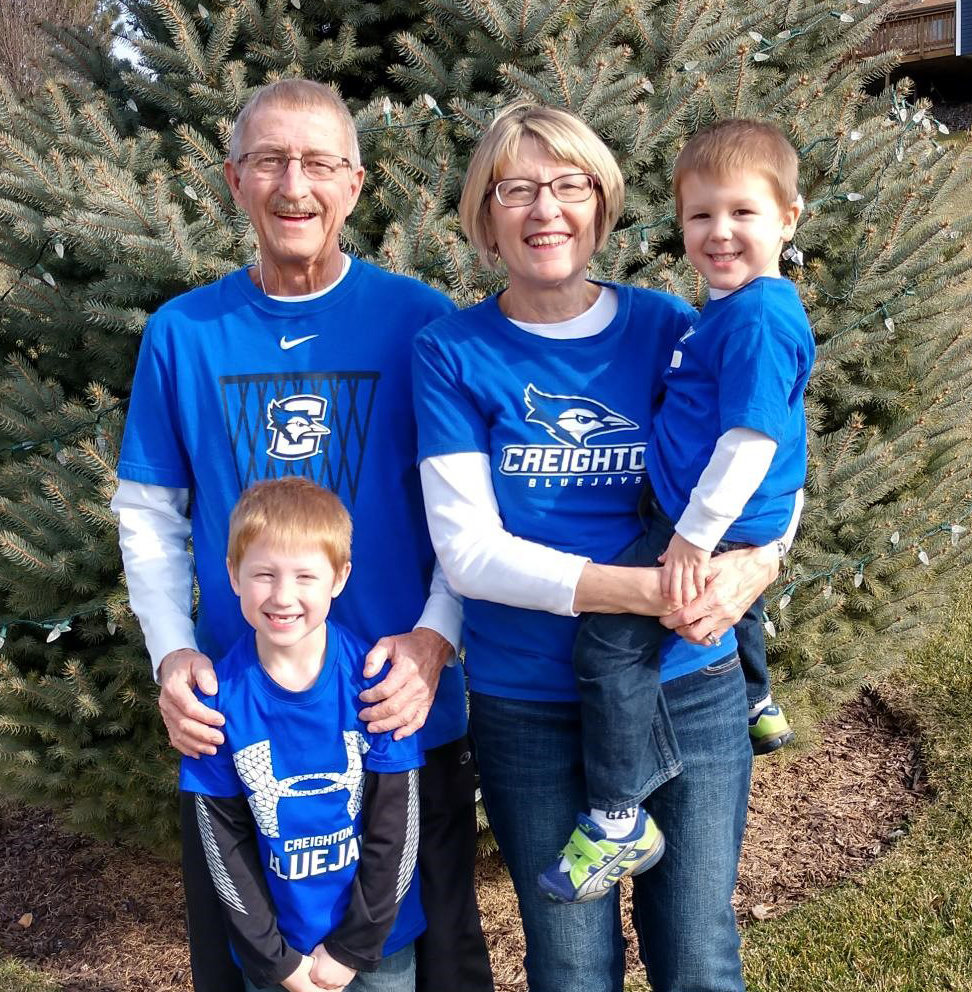 "I'm thankful that Colleen and her family decided in the worst possible moment to give others a chance at life," Kelly said. "I talk to her every day and she and her daughters have become part of our family."
Last summer, Ron and his wife Mary Lou took a return trip to the Tetons — the location of their honeymoon 45 years prior.
"It was a pretty special trip," he said, marveling at his ability to complete two six-mile hikes in two days.
He's also back at work with his son and grateful for the opportunity to watch his grandkids grow up.
"It's a special gift, you know," he said. "I don't know that there are words to tell you how thankful I really am for this gift of life."


The gift of organ and tissue donation means more Thanksgiving dinners, more sleepovers, more life. What can you make possible?
Register to be a donor
today.