Originally from North Dakota, Carly Weld recently moved from Texas to Nebraska to get back to her Midwest roots. As a volunteer engagement professional, Carly was looking for organizations to volunteer with in Omaha when she came across Live On Nebraska. The organization stood out to her because of her experiences with donation, both as a child of a recipient and a living donor. "It's a mission that has helped me and I think that everyone can be a donor," Weld said.
In July 2011, Carly's father received a kidney transplant.
Growing up, Carly witnessed the difficulties of her dad being on dialysis because of his type 1 diabetes diagnosis. Over his lifetime, he developed many health problems, including kidney failure, which made him eligible for a transplant. After months of waiting for a transplant, a match was found. Carly was hopeful this kidney transplant would enable her father to live a better quality of life.
Unfortunately, Carly's father passed due to other complications shortly after receiving his transplant. Weld said, despite the unfavorable outcomes, her family was still very grateful to the donor and their family for the opportunity her dad had to receive a transplant.
About two years later, Carly encountered donation once again, but this time from an entirely new perspective. Carly's mother, Mary, decided to give the gift of donation as a living kidney donor in January 2013.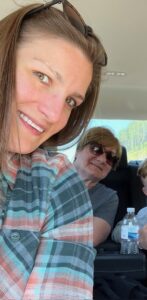 Carly describes her mom as a giving and caring person, so although it was an extraordinary gift, it wasn't out of the ordinary for her mom to give of herself to benefit another in need. After she donated, Carly was able to understand hope from the donor side as well.